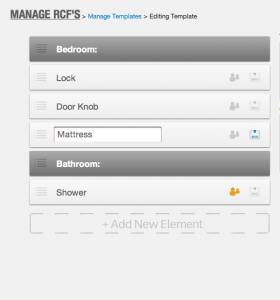 Today we unveiled a major overhaul on our digital room condition form template page in our admin panel. We have simplified making room condition reports even more.
Edit Text in Place:
Now you can simply click any of the text in the "Edit Template" mode on the admin panel and have the ability to change text in place without leaving the page. (See "Mattresses" on the image on the left).
Heading Text Element:
Add a new element by using a colon (:) at the end of the word or phrase (like pictured in "Bedroom:" and "Bathroom:" on the left). These will show up as headings in the mobile apps.
Add New Element:
Simply click "Add New Element" to add another condition to the list on your RCF. The new element will be added right in the page and you will not be taken to another page.
Barcode Elements:
If your university has the barcode scanning capability installed, you will see the barcode icon appear on the right hand side of each element. The element will be grayed out if it is inactive. When you click the icon, it will become brighter (like pictured on the "Mattress" element above). You no longer have to leave the page to enable the barcode element.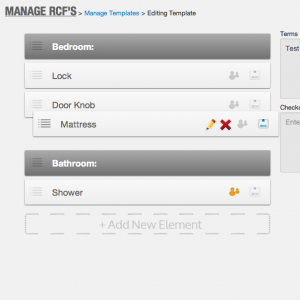 Common Elements:
The common elements are denoted by the orange icon of a group of people. Just like the barcode element, you can click the grayed-out people on any of the elements to make it a common space element.
Drag and Drop:
Easily rearrange your elements by simply clicking the "List" icon to the left of your element title. You can see that the "Mattress" element is being moved around on the screenshot on the right.